Considering 4th Degree?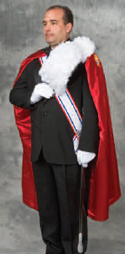 Another degree open to members of the Knights of Columbus is that of the Fourth (or Patriotic) Degree. On February 22, 1900, the first Fourth Degree exemplification or degree ceremony was held in New York City. The Fourth Degree imparts a lesson on the virtue of patriotism. The primary purpose of this degree is to foster the spirit of patriotism in members and the community at large and encourage active Catholic citizenship. Today there are some 300,000 Fourth Degree Knights out of the total 1.6 million member Knights of Columbus.
At the recent (November 28, 2012) Board of Directors meeting, the Knights of Columbus approved a resolution eliminating the requirement that a Knight of Columbus serve for six months as a Third Degree member before advancing to the Fourth Degree. This is great news for anyone in Council 15085 considering the Fourth Degree exemplification to be held March 9, 2013. CLICK HERE for more.
Tags: 4th, Exemplification, Fourth Degree